On 18 April, the highly anticipated China Brand Power Index (C-BPI) brand ranking and analysis report was released. The C-BPI is reportedly the first brand value evaluation system in China, and is implemented by CHNBRAND, a leading brand rating and brand consultancy in China. Since its inception in 2011, and for several consecutive years, the index has received continuous financial support from the brand policy of the Ministry of Industry and Information Technology.  making it a trusted barometer for the Chinese brand community.
The report states that the focus of boosting the growth of brands has shifted from a traffic-driven approach to a value-driven approach. The era of increasing brand awareness and influence and strengthening brand equity through a traffic-driven strategy has passed. Only those brands that prioritize user-centricity, constantly reshaping and revitalizing their value based on consumer needs, and effectively engaging with consumers in terms of products, services and experiences, can truly capture the minds of users, eliminate the brand equity bubble, and ultimately achieve promising results in terms of brand and market.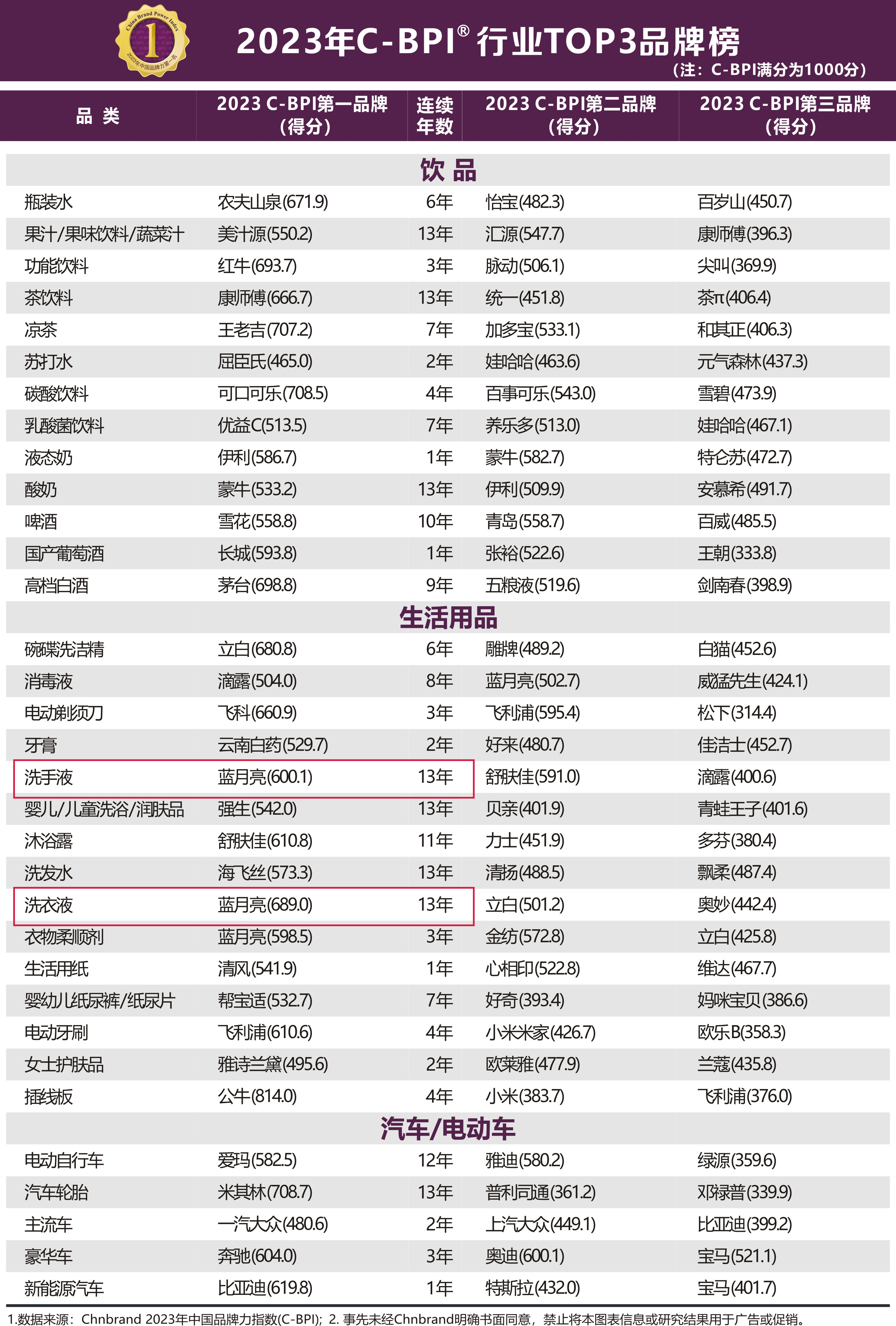 Blue Moon exhibited exceptional performance in the daily chemical product segment. The published list reveals that four of Blue Moon's products secured positions among the top three in their respective categories. In 2023, Blue Moon's liquid laundry detergent and liquid soap came out on top again in the C-BPI Industry Brand Power Index, earning the "Golden Brand" award. Notably, Blue Moon's liquid detergent and liquid soap have maintained their top ranking for 13 consecutive years since the launch of the C-BPI index in 2011, this achievement establishes Blue Moon as the No. 1 brand in the industry, demonstrating its outstanding brand power.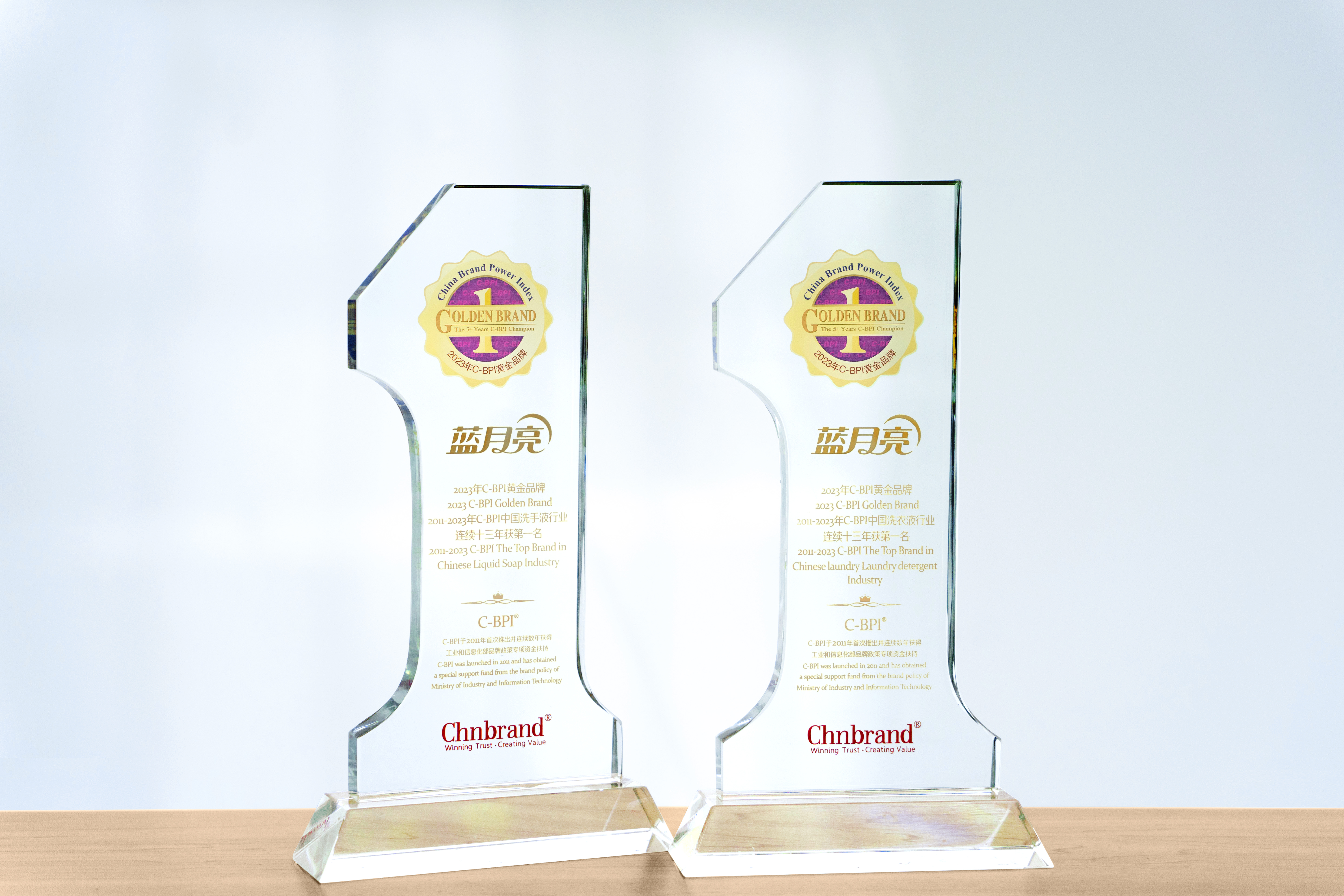 Enhancing User Experience and Strengthening Brand Competitiveness through Superior Products
The essence of a brand is to create and provide value for consumers. Products not only serve as a bridge between brands and consumers, but also represent the core value of brands. Examining Blue Moon's development history, it reveals the Group's commitment is to providing exceptional products. Leveraging its robust R&D and innovation capabilities, Blue Moon has been able to continuously introduce excellent products favored by consumers, enhancing the user experience at every development stage. This approach allows the company to consistently meet evolving cleaning demands and industry trends.
Prior to 2008, laundry powder dominated the laundry product market in China, with liquid laundry detergent holding a market share of less than 4%. In view of this, Blue Moon pioneered the promotion of liquid laundry detergent products nationwide, not only opening the "liquid" laundry detergent era in the country, but also creating the first impression among consumers that "Blue Moon" is synonymous with "liquid laundry detergent".
Since then, Blue Moon has introduced liquid detergents for hand washing, infant clothes and travel, promoting the concept of "special purpose" detergents to bring consumers a more efficient and effective cleaning experience. In recent years, Blue Moon has continued to step up its product R&D, launching an impressive range of products such as antibacterial foaming hand wash, automatic hand wash dispenser, rinse-free hand wash, underwear laundry detergent, and bacteria and odor removal laundry detergent. These offerings have garnered consumer approval by providing excellent laundry experiences.
However, the Group is not complacent about its achievements. With the vigorous promotion of the "sports for all" concept across the country, Blue Moon has had the foresight to gain a deeper understanding of the "pain points" faced by consumers in terms of sweat odor on clothes. Consequently, the Group conducted multidisciplinary research in microbiology, chemistry and textiles leading to the launch of a new sportswear liquid laundry detergent series in 2022. This innovative product line has paved the way in the new sportswear laundry segment, offering consumers a "sweat without smell" experience.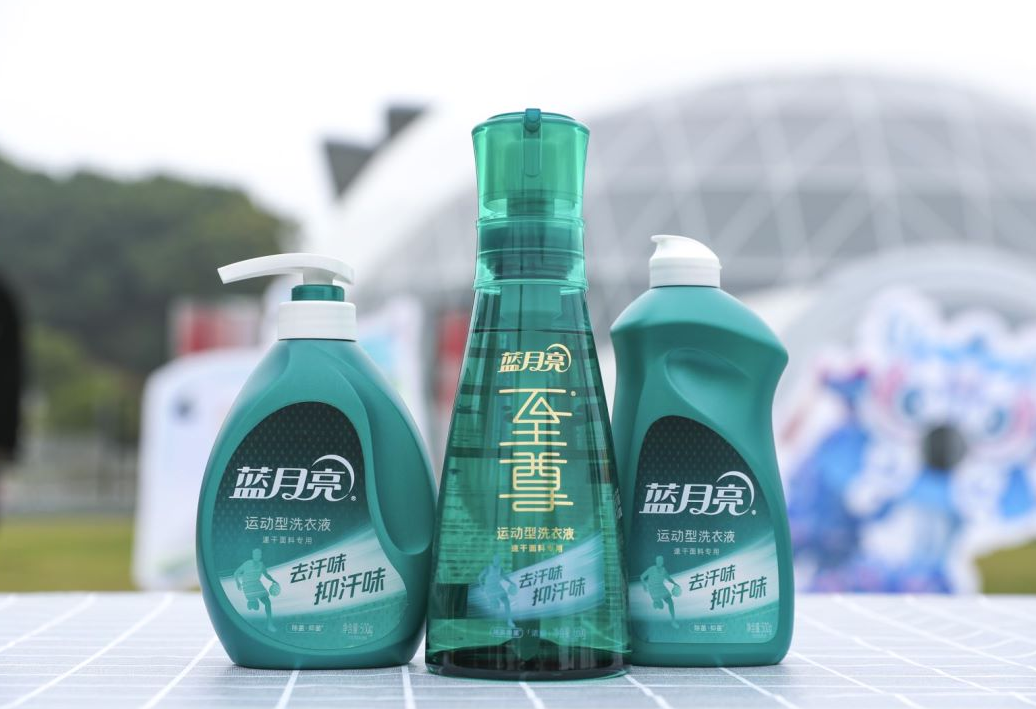 As aforementioned, Blue Moon's sportswear liquid laundry detergent product series not only effectively eliminates sweat odor from clothes, but can also inhibits such odors during wear. The detergent, specifically designed for quick-dry fabrics, preserves the sweat absorption and quick-drying properties of quick-dry clothing, ensuring a fresh and comfortable wearing experience and allowing consumers to enjoy sports and clean living at the same time.
In response to ever-evolving market conditions, Blue Moon has always sensitively focused on identifying consumer needs and constantly upgrading product experiences to adapt to shifting demand. Such efforts have also enabled it to maintain an effective connection between the brand, users and the times, and to constantly strengthen Blue Moon's core competitiveness.
Delivering Value through Knowledge Marketing Empowering the Brand with Strong Vitality
The report highlights that in the post-pandemic era, only companies that excel in internal brand assessment and successfully relaunch products catering to current needs can seize emerging market opportunities and achieve brand growth. These companies must swiftly adapt to external changes, align their brand's core values with contemporary requirements, and foster connections between the brand and consumers through comprehensive brand upgrade. How to maintain the continuous growth of the brand and gain lasting vitality? What Blue Moon has to do is to think its own brand value, build links with users and unswervingly conduct knowledge marketing.
Rooted in its expert strategy, Blue Moon insists on knowledge marketing to help consumers solve their daily laundry problems through comprehensive and vivid laundry knowledge. By offering access to high-quality products and scientific methods, Blue Moon creates value for consumers and establishes deeper connections with the brand.
To better serve consumers, Blue Moon has set up an extensive customer service center, assembled dedicated teams for e-commerce platforms, social media and other channels, and established a 400 7*24-hour service hotline. Additionally, through its official WeChat account, Weibo and other online channels, Blue Moon continues to disseminate scientific cleaning knowledge and laundry tips according to consumers' daily cleaning difficulties, bringing consumers a better life. On the offline platforms, Blue Moon has also sent cleaning consultants with rich cleaning knowledge to venues such as supermarkets and hypermarkets to interact with consumers, continuously increasing the impact of these cleaning experts.
The "Blue Moon Festival", held annually for 10 consecutive years, is another significant avenue for Blue Moon's knowledge marketing efforts. Each year during the festival, Blue Moon launches new products and acts as the exclusive title sponsor of the "Mid-Autumn Festival Gala" broadcast on CCTV and Hunan TV. By organizing various online and offline activities, consumers are invited to try new products, gain knowledge, and experience Blue Moon's services. Through in-depth communication with consumers, the brand continues to extend its reach to consumers, thereby bringing them a lifestyle and value experience beyond cleaning itself.
Brand growth does not happen by chance. To strengthen its foundation, it must "start from the basics, and take one step at a time to go farther and higher". Only brands that can perceive changes, embrace users, cultivate value, and insist on a long-term approach will have a promising future. Blue Moon, consistently adhering to its value proposition, is expected to continuously revitalize its brand and move towards a broader development space through product innovation and knowledge marketing.