On 22 April, the "2022 30th China Retail Consumption Statistical Analysis Results Conference" organized by the China General Chamber of Commerce and China National Commercial Information Center were held in Beijing. With the theme of "To Improve New Consumption, Start a New Journey", industry experts and entrepreneurs gathered to evaluate and discuss the trends, implementation and innovation in the economy, as well as consumption, culture, technology, business environment and green development. The aim is to promote high-quality development of the Chinese consumer goods market and the steady and long-term advancement of the domestic economy.
Among the brands with leading market sales in 2021 named at the conference, Blue Moon's liquid laundry detergent and liquid soap were ranked No. 1 in market share within their respective categories for 13 consecutive years (2009-2021) and for 10 consecutive years (2012-2021) .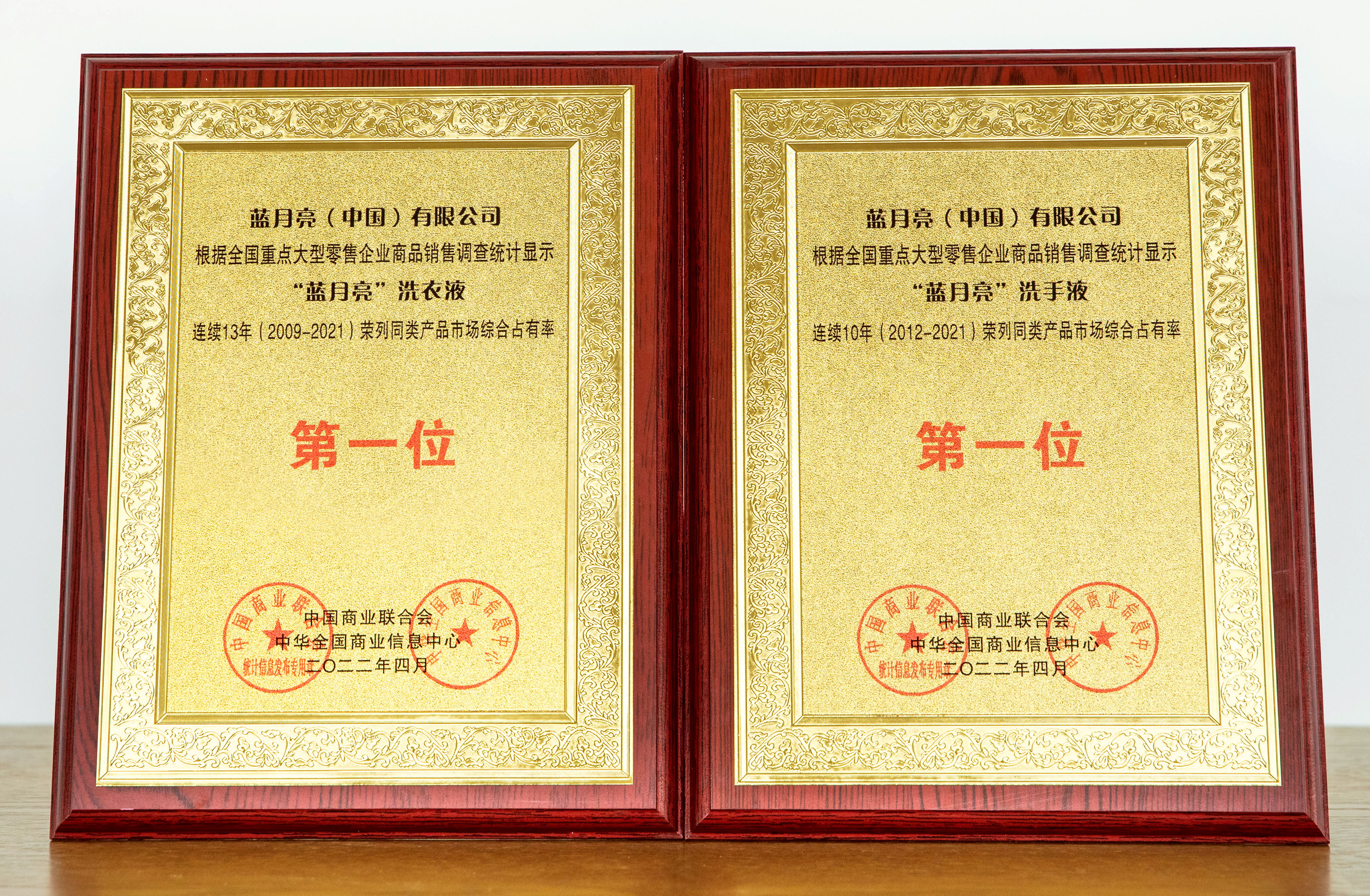 China Retail Consumption Statistical Analysis Results Conference is a major annual assessment of industry performance and prospects, as well as exploring exchanges and cooperation, as well as an industry platform for market analysis, research and development, sharing of results, and brand promotion.
Moreover, Blue Moon's liquid laundry detergent and liquid soap both ranked first for 12 consecutive years (2011-2022) in the 2022 (12th) China Brand Power Index (C-BPI) list recently released by the Chinese brand rating authority Chnbrand.
Despite increasingly intensified market competition, Blue Moon twice again earned prestigious leadership positions, thanks to its product quality, brand recognition and effective sales channels.
Executing a well-devised strategy, to satisfy demand with deployment across all product categories
Two industry leadership accolades fully demonstrate consumer appreciation of Blue Moon products. In the era of rapid social and economic development with a wide range of products in the market, Blue Moon can win the trust of consumers over the years because it continues to carefully assess consumer demand, and create, upgrade and iterate products based on its insights, to quickly meet the ever-changing demand of consumers.  
With the consumption upgrade trend, consumers pay closer attention to the satisfaction of experience and psychological needs, as they pursue a better quality of life. Through long-term insights and analysis of consumers, Blue Moon has found that Chinese households generally encounter cleaning problems such as mildew in bathroom, oil and grease stains in the kitchen, yellowing of clothes and limescale. Therefore, based on its expert strategy and guided by consumer needs and experience in different product usage scenarios, Blue Moon provides a complete range of high-quality household cleaning solutions for consumers to create a better, cleaner and healthier life.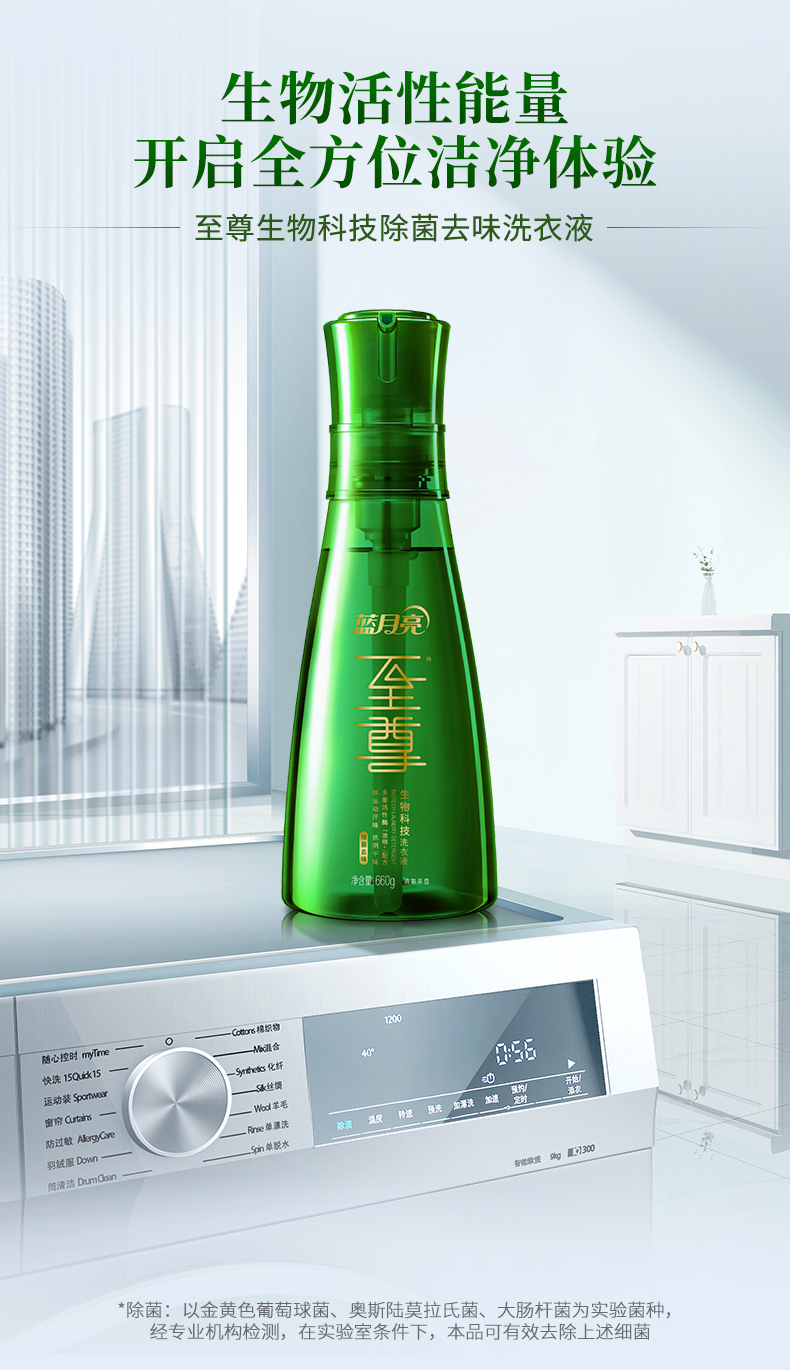 Based on its performance in recent years, Blue Moon has fully met the diverse and personalized cleaning needs of consumers leveraging its effective product innovation capabilities that accurately address the needs of users. In terms of fabric care, delving into the different usage scenarios of consumers, Blue Moon has launched a series of new products such as Supreme Biotechnology bacteria and odor removal laundry detergent, bacteria and odor removal laundry detergent and underwear laundry detergent, which have won their hearts. Among them, the underwear laundry detergent and the bacteria and odor removal laundry detergent have enjoyed an enthusiastic market reception. Taking the performance of Blue Moon's official flagship store on JD.com as an example, positive comments are as high as 97% and 99%, and its sales volume continues to lead peers, showing the strong prospects of these potential star products.
For personal hygiene, since 2020, Blue Moon has launched a series of new products including foam antibacterial liquid soap, an automatic hand washing machine and rinse-free liquid soap, forming a portfolio of hand wash products that can satisfy the diverse and differentiated hand washing needs of all consumers in different scenarios.
For home care products , Blue Moon has launched home cleaning and care products such as Weinuo Mold Remover, oil and grease stain foam remover, Tianlu utensil, fruit and vegetable wash, washing machine cleaner, and multi-purpose sanitizer, to help consumers more easily solve household cleaning problems.
To date, Blue Moon has in place three major product segments, namely fabric care, personal hygiene and home care, covering more than 80 products. With traditional products that continue to win the favor of consumers, and star products such as the underwear laundry detergent and the bacteria and odor removal laundry detergent demonstrating strong potential, these products have brought steady business growth to Blue Moon. Based on its core business performance, according to Blue Moon's 2021 annual report, the fabric care products business performed well, with an annual revenue of approximately HK$6.457 billion, a year-on-year increase of 15.4%.
Driving development through innovation, a 30-year-old brand wins public support
The long-term industry leadership clearly shows that the Blue Moon brand remains deeply rooted in the hearts of the people. Over the years, Blue Moon has adhered to its vision of providing "exceptional products, impeccable services and professional insights," so that consumers are clean and worry-free. With innovation as the driving force, Blue Moon will continue to develop the cleaning market, helping consumers to achieve all-round cleanliness and remain worry-free. The brand building journey of Blue Moon shows how it has worked to successfully achieve its mission step by step.
Before 2008, laundry powder dominated the Chinese laundry product market, with liquid laundry detergent having a market share of less than 4%. Aware of the advantages of liquid laundry detergents, such as easy to dissolve, easy to rinse and gentle on clothing, Blue Moon overcame technological barriers and launched a deep-cleaning liquid laundry detergent. With an aggressive nationwide publicity campaign mounted for the ground-breaking item, the product succeeded in changing the traditional laundry habits of Chinese consumers ushering in the "liquid laundry detergent era" in the country.
In 2015, Blue Moon overcome challenges, developed and introduced China's first "concentrated+" liquid laundry detergent product for use in washing machines. Branded "Supreme," the bottle containing the detergent featured a measurable dispenser pump. Compared with standard laundry detergents, consumers can save more than two-thirds of detergent in doing laundry and the low-foam formula can reduces rinsing required, making washing clothes easier, more convenient and cheaper, paving the way for the industry to go "concentrated."
In 2018, Blue Moon developed an upgraded product "Supreme Biotechnology Liquid Laundry Detergent" incorporating innovative washing technologies such as "biological stain removal," "anti-stain re-deposition" and "fiber sorting," which can effectively prevent yellowing and graying of clothing, and protect fibers to stay shiny.
Blue Moon has continuously promoted the transformation of the industry through innovation. It has instilled the brand image as a cleaning expert deep in consumers' minds as it provides a more efficient and scientific washing experience to them.
By focusing on product R&D and innovation, Blue Moon has reinforced its brand image and brand power through innovative brand building efforts. The Group has continued to provide scientific washing tutorials and services and disseminate scientific washing knowledge so that consumers can use high-quality products and scientific methods. To this end, Blue Moon has set up a special washing research center which evaluates and summarizes scientific washing methods, conveys scientific washing expertise through various scientific approaches, provides detailed product usage tutorials to consumers via 400 customer service hotlines operating 24 hours a day, 7 days a week. These activities are designed to help consumers realize a worry-free cleaning experience.
In addition, starting in 2013, the annual "Blue Moon Festival" coinciding with the Mid-Autumn Festival features new product launches and online and offline interactive activities to promote professional laundry knowledge and new cleaning practices to consumers. Blue Moon has worked with CCTV and Hunan TV for nine consecutive years to celebrate Mid-Autumn Festival and build unique ties with consumers. Large quantities of new cleaning products are given to the audience, to try and experience first-hand the clean living Blue Moon style. 
Based on its incisive judgment on the consumption upgrade trend, deep R&D expertise and innovation DNA, Blue Moon has been able to discover potential needs that cannot be clearly defined yet by consumers themselves in order to remain at the forefront of the market and think ahead for consumers. This is also key to Blue Moon's ability to achieve its envied brand status and continue to win the trust of consumers.
Channels reform shows remarkable results and product penetration rate continues to increase
Channels serve as the bridge between companies and consumers and are also one of the critical elements to win in the market. As for daily-use chemical enterprises, they need to help consumers realize their own needs and enable them to purchase products conveniently and quickly. Hence, for its channels, Blue Moon adheres to its "with consumers at heart" philosophy and continuously improves the channel structure and processes. By optimizing traditional channels, cultivating mainstream e-commerce channels and actively deploying emerging channels, Blue Moon has been able to improve product penetration and expand its brand influence.
As early as 2012, Blue Moon has actively deployed various e-commerce channels and cooperated with platforms such as Tmall and JD.com, thereby seizing early-mover online opportunities and maintain leading sales volume over many consecutive years. Blue Moon also came first on the sales list of laundry and cleaning brands on the mainstream e-commerce platforms of Tmall and JD.com during the "618" and "Double 11 Shopping Festivals in 2021.
Regarding offline channels, Blue Moon took the initiative starting to conduct comprehensive reform to its marketing system and organizational structure, achieving remarkable results. According to Blue Moon's 2021 financial report, revenue in the second half of the year increased by 14.9% year-on-year, and its offline channel sales increased by 53.9% year-on-year. The Group has currently achieved a balance between its online and offline channels structure, which will further facilitate its steady growth.
Moreover, with the rise of emerging e-commerce platforms, Blue Moon has also actively embraced changes and expanded into new channels such as social e-commerce, fresh food e-commerce and online live-streaming platforms. In 2021, Blue Moon has completed the deployment of a nationwide O2O near-field retail organizational layout. According to Blue Moon's 2021 annual report, the Group has climbed to the top spot of the O2O platform rankings of JD Daojia and Meituan Flash Sale.
Blue Moon has been fulfilling its mission by devoting efforts across multiple dimensions such as products, brands and channels. As time passes and the situation changes, Blue Moon will continue to focus on the washing sector and persist with driving high-quality development through innovation. At the same time, it will give full play to its professional advantages to create better products and services, promote a cleaner and healthier lifestyle and help consumers in pursuit of better living.