Blue Moon (Tianjin) Co., Ltd., a subsidiary of Blue Moon Group (06993), is delighted to announce that it has won another national "Green Factory" title from the recently announced 2021 Green Manufacturing list. The list, compiled by the Ministry of Industry and Information Technology, includes green factories, green design products, green industrial parks and green supply chain management enterprises. It has been reported that the winners were determined using a variety of methods, such as self-evaluation by the applicant, third-party evaluation, evaluation and confirmation by local industrial and information technology authorities, and expert evaluation. 
The national "Green Factory" selection process aims to optimize China's green manufacturing system, fully promote green manufacturing, and help the industrial field achieve emission peak and carbon neutrality goals, which is an important measure for China to realize the transformation and upgrade of its manufacturing industry. Winning the title highlights the remarkable results Blue Moon has achieved in the field of green and low-carbon development, and also emphasizes the brand's image as an industry benchmark in the development of green manufacturing.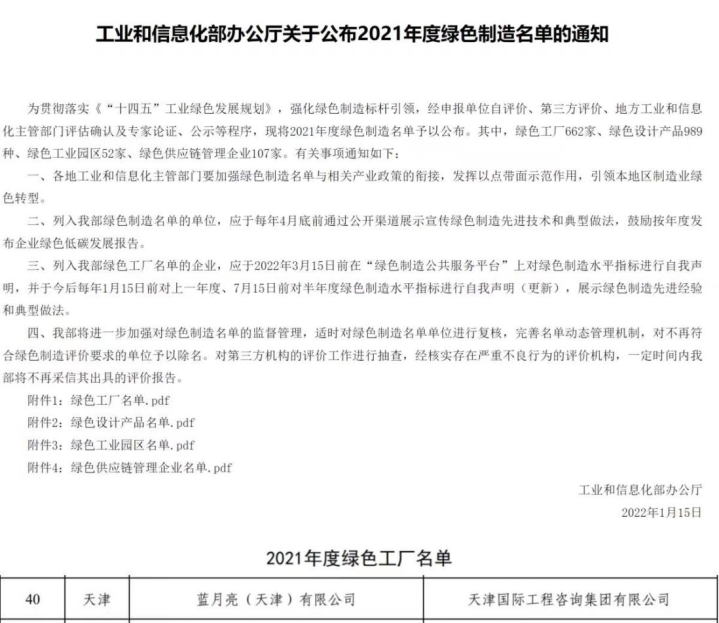 In fact, as a responsible company, Blue Moon has always pursued ESG concepts, integrating sustainable development and environmental protection into its corporate social responsibility and governance, promoting the sustainable development of the industry, and delivering mutual benefits for both the Company and society. Specifically, in terms of manufacturing, Blue Moon has adhered to green production and the environmental management system policy of "prevention from source, control at all stage", upholding factories intensification, as well as the use of harmless raw materials, clean production, production waste recycling and low-carbon energy in every process. For example, at the Company's Tianjin factory, the production site adopts advanced production processes and uses highly efficient production equipment that boasts low-energy consumption, which can effectively improve efficiency, reduce energy use and ensure product quality.
In terms of product development, Blue Moon regards the reduction of the impact of detergents on the ecological environment as one of the Company's key responsibilities. It combines the "clean" function of products with the concept of environmental protection, and vigorously advocates the concentration of detergents. Since 2015, Blue Moon has launched several concentrated cleaning products, including Supreme Concentrated Laundry Plus Detergent, Tianlu utensil, fruit and vegetable wash, concentrated fabric softener and Supreme Biotechnology Bacteria and Odour Removal Laundry Detergent, to provide consumers with a more relaxing, convenient, economical and also environmentally friendly cleaning experience. At present, Blue Moon's main liquid laundry detergent products have obtained China's Water Conservation Certification, and more than 90% of its products have obtained China Environmental Labelling certification. Additionally, 22 of these products, including High Performance Laundry Detergent, Supreme Concentrated Laundry Plus Detergent and Green Softener, have also become the first batch of products in the industry to obtain the China Green Product Certification.
In fact, the Tianjin factory is not the first of Blue Moon's factories to have received the "Green Factory" title – the Group's Chongqing factory also won the accolade in 2020. Ultimately, these recognitions reflect Blue Moon's long-term commitment to realizing energy saving and environmental protection, positioning it as a role model within the industry.
Blue Moon Group has publicly stated that in the future, the Company will continue to integrate its ESG goals into its corporate development strategies and will strive to achieve the ESG principles of "offering better products (services), becoming more environmentally friendly, and building a happier society". It will continue to step up its technological innovation, enrich its product category and optimize its customer service system, as well as continue to uphold the sustainable development philosophy and launch energy-saving and low-carbon products, while encouraging partners in the upstream and downstream industry chain to contribute to environmental protection and help achieve the emission peak and carbon neutrality goals. Industry experts believe that as Blue Moon aims to promote green and low-carbon operations across the value chain and develop sustainable development strategies and cooperation models with its partners, its brand value may be further enhanced and its future market expanded, thus creating more value for itself, its stakeholders and society.