Recently, 22 products of Guangzhou Blue Moon Industrial Co., Ltd. (hereinafter referred to as "Blue Moon"), including the deep cleansing care liquid laundry detergent, Supreme "Concentrated+" liquid laundry detergent and green fabric softener, have attained the China Green Product Certification. This certification was the result of an evaluation by China Environmental United Certification Center (CEC) according to the "GB/T 39020-2020 Green Product Assessment - Detergent" procedures. Blue Moon has been included among the first batch of enterprises in the industry to be thus certified.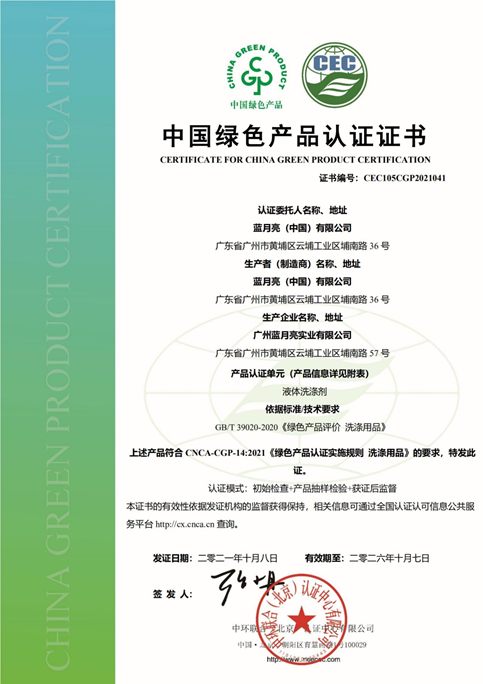 The "China Green Product" certification is a national product certification promoted and implemented by the State Administration for Market Regulation in accordance with the "Opinions of the General Office of the State Council on Developing a Unified Standard Certification and Identification System for Green Products". It is based on the consumer friendly indicators, which reflect consumers' product satisfaction, such as "safety and reliability, excellent performance, convenience and user friendliness". The certification standards encompass an analysis on the "resources conservation" and "environmentally friendly" indicators. These indicators include environmental protection, energy saving, water conservation, recycling, low carbon, renewable and organic elements during the product life cycle and their effect on the green performance of products. There is also an assessment conducted of the risk involved and a conformity assessment, which combines the Third-party Certification and the Supplier Conformity Declaration, on the products' key life cycle and key indicators.
As a professional home cleaning solutions provider in China, Blue Moon has proactively responded to the national call for green environmental protection. Through consistently fulfilling its action principle – "offer better products and services, be more environmentally friendly, and build a happier society", it has effectively integrated green and environmental protection concepts into day-to-day business operations and applied such concepts throughout the life cycle of product production. Attaining "China Green Product" certification is solid testimony to Blue Moon's long-term adherence to green development.
Prioritise product R&D and innovation, Drive the industry to go "concentrated"
Blue Moon has always attached great importance to R&D and technological innovation and has greatly emphasized the environmental performance of products starting from the product R&D and design. It has effectively minimised the environmental impact of the full life cycle of detergents through professional and refined design and development of scientific environmentally friendly formulas. Currently, Blue Moon's main laundry detergent products have attained the China Certificate for Water Conservation Products, and more than 90% of its products have passed the China Environmental Labelling certification process.
The remarkable results achieved by Blue Moon in green development are inseparable from its exploration efforts and cultivation of expertise in the field of concentrated products. Concentrated products offer multiple environmental benefits such as smaller storage area requirements, lower transportation costs, less packaging waste and reduced carbon emissions. In recent years, Blue Moon has continuously increased investment in R&D and promoted innovation and upgrade in this area, leading the industry into a green, environmentally friendly "concentrated product" era.
In 2015, Blue Moon introduced China's first-ever "concentrated+" liquid laundry detergent product, "Supreme", in a bottle with a measurable dispenser pump for use in washing machines. The product is specifically made for Chinese families and can wash eight clothing articles (standard short-sleeved shirts for men), with just a single pump action making washing easier and economical yet more environmentally-friendly. Later, in 2018, Blue Moon launched Supreme Biotechnology Liquid Laundry Detergent, an upgraded product which was included in the "Fifth Batch of Green Design Products" list compiled by the Ministry of Industry and Information Technology. In 2019, a concentrated kitchen cleaner – Tianlu Utensil, Fruit and Vegetable Wash was launched by Blue Moon. A 300g bottle of Tianlu can wash 2,000 dishes, and the consumption is 67% less than that of the national standard detergent for utensils. In 2020, Blue Moon launched a new concentrated product – a concentrated fabric softener. Compared with the previous-generation Blue Moon green softener, consumption is reduced by 50%, plus rinsing is easier, thus saving time, labour and water.
Blue Moon has stated in its mission that its responsibility is to lead the industry to go "concentrated". Thus Blue Moon will continue to promote the development of concentrated detergents and lead the green development of the cleaning industry.
Optimise product packaging design Proactively guide greener consumption
Reducing the consumption of external packaging is also a major direction of product R&D at Blue Moon. Through active promotion of replacement packages, the consumption of packaging materials can be reduced while enhancing consumer awareness about environmental protection. Moreover, Blue Moon has emphasized lightweight and green packaging materials. Hence, it has worked with suppliers to optimise packaging materials through a professional project, so as to reduce the usage of packaging materials.
An example in this regard is the Jingxiang Liquid Soap designed with a combination of "a holder + a pump" being both a fashionable and eco-friendly product. Its bottle holder is made of an anti-corrosive and durable material originally created for aviation deployment, and realises the objective of recycling packaging. If consumers keep the bottle holder after first use, then they just need to purchase a replacement pack to refill it for re-use. Through products such as Jingxiang Liquid Soap, Blue Moon has embedded awareness of environmental protection into consumers' daily behaviours and habits, thereby guiding consumers to put the concept of environmental protection into action.
And in e-commerce packaging, Blue Moon has undertaken different measures such as optimising product packaging designs, improving technologies and conducting on-site supervision aimed at reducing the consumption of packaging materials. For instance, regarding the packaging for transportation used by e-commerce platforms in 2020, Blue Moon has conducted an analysis of the rate of damage and performance of express delivery and site visits to the logistics and express delivery operations, and, based on the findings, then designed different protective packaging for different platforms. Consequently, it has optimised 11 types and forms of packaging and protective materials, saving 700,000 metres of sealing tape, 1,900,000 bubble bags, 1,000,000 EPE foam sleeves and 750,000 protective lids.
Introduce leading-edge technology to advance green production
In the aspect of green production, Blue Moon has upheld the environmental management approach principle of "prevention at the source and control all stages". It has insisted on undertaking intensive production, using non-hazardous raw materials, managing cleaner production, turning waste into resources and using low-carbon energy across the production process. In terms of technology and equipment, it has adopted advanced clean production technology, selected energy-efficient equipment and introduced automation. To lower energy consumption, it has continued to roll out energy-saving technological reform programmes and to optimise production management, so as to improve production efficiency and product quality while increasing the rate of recycling resources and reducing emissions of pollutants. Moreover, Guangzhou Blue Moon Industrial Co., Ltd. has been designated as a "Guangzhou Clean Manufacturing Company" and a "Guangdong and Hong Kong Cleaner Production Outstanding Participant (Manufacturing)" for four consecutive years.
It is worth noting that Blue Moon's Chongqing factory has reached 100% use of water efficient devices, optimised the layout of its integrated pipe network, built a concentrated water recycling system, and adopted the industry-leading MBR wastewater treatment technology, all of which effectively improved the function and efficiency of wastewater treatment. At the same time, by optimising the steam pipe network and recycling the condensed water, about 1,359 tons of pure water can be saved each year and the consumption of natural gas can be lowered by approximately 4.3%. The Chongqing factory has also introduced China's advanced sludge treatment and filtration equipment. Thus the moisture content of sludge can be significantly less and the sludge production per unit product can be reduced by more than 55%. In 2020, Blue Moon's Chongqing factory was awarded the "National Green Factory" citation by the Ministry of Industry and Information Technology, due to its significant achievement in energy conservation and emission reduction.
Blue Moon has stated that in the future, the Company will continue to actively capitalise on the influence of the "China Green Product" title, develop innovative technologies, conduct green production and continue to launch more green products. Meanwhile, with the goal of promoting green concepts and low-carbon across the value chain, it will devise sustainable development strategies and cooperation models with its partners, and work with partners up and down-stream along its industry chain so as to contribute to advancing environmental protection.